Digital business models can strengthen the value chains for the sustainable industry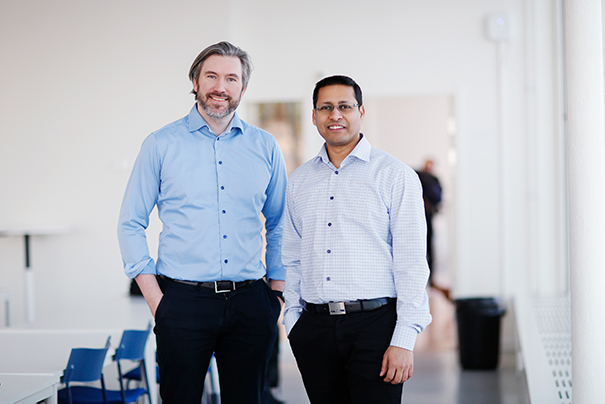 We are witnessing multiple rapid technological shifts simultaneously related to digitalization, electrification, and automation, which has let to numerous growth opportunities for Swedish process industry companies and their suppliers. However, these digital business models for industry suppliers have in most cases not been commercially successful; something that Vinit Parida and David Sjödin from Luleå University of Technology noticed.
Vinit Parida works as a chaired professor at Luleå University of Technology. One of the projects he runs is about business models that strengthen the Swedish process industry; Digital business model innovation roadmap for process industry. Together with David Sjödin, associate professor, he has run the project, which started in 2018 after funding through PiiA's call and will be completed in the autumn of 2021.
Both Vinit and David have for many years worked with research projects linked to Swedish industry and have followed the development that goes further and further towards digitalization, servitization and business model innovation. Recent years have witnessed increased demands on process industry to become more sustainable and resource efficient to remain competitive. For example, there is an increasing focus on material efficiency and circularity in both society and industry. To succeed in this, digitization is one of the most important tools.
"The technology has developed extremely fast in recent years, but we do not see that the firm specific business models are able to kep up, which means that some of value is lost" says David.
"The process industry is a perfect environment for the current project as the industrial companies have several machine in a process line from different suppliers installed that must work together. We believe that it could be relevant for more suppliers to use digitalization to change business models and deliver services targeted at optimizing customers operations instead of the traditional product. By focusing on the value they want to deliver and then adjusting the business model, they could create a better climate of cooperation and understanding between customer and supplier. That way, we can tackle the bigger challenges when it comes to innovation, sustainability and climate goals."
"We benefit from a broad portfolio of different industrial partners," says Vinit. "It is about both participants in the consortium and its work package, but also more organizations that have been added along the way. It is often a matter of us having started working with an industrial company and one of its suppliers, along the way it becomes relevant to involve their suppliers and customers to see the whole value chain."
"The digital solutions we have today where industrial companies, their suppliers and their customers can share data to streamline or find new solutions provide more opportunities for innovation," continues Vinit. "With the help of the right data, you can visualize and test before implementing new solutions and also continuously improve during operation. During the project, we have developed new business models and several of the project participants see great potential with these; I hope to see them implemented soon."
"Of course it is somewhat a challenge to handle many partners and their expectations of the project, but the collaboration has above all been very enlightening. Many of the companies have very similar conditions and have learned from each other through the project. It also gives us a lot of lessons to take back to the academy and our work at the university, "says David. The current Covid-19 pandemic has influence the work. "We had planned for several physical meetings but have switched to digital meetings and workshops. We miss meeting and the deepened trust it often entails. However, we have succeeded in reaching out widely with our results and methods and see a great demand from both industry, suppliers and the research society. "
During the project, Vinit and David have shared their knowledge to other research groups, but also with the government's high-level committee (regeringens samverkansprogram), Committee on Industry and Trade (Näringsutskottet), AI Sweden, Automation Region, and Vinnova. The project has also resulted in numerous journal papers, practitioner reports and news publications, such as Management of Innovation and Technology and Dagens Industri.
Vinit and David will continue to work on digital business models in several new projects when the current financing period ends this autumn. They see an increasing focus on AI, data-driven business models and how business model innovation could better support the transition to circularity. Demand is high and propensity to change has increased.