Datum: 2021-10-05, 13:00 - 17:00
At this matchmaking session, corporates will have the opportunity to meet and potentially collaborate with expert startups developing industrial solutions within IndTech.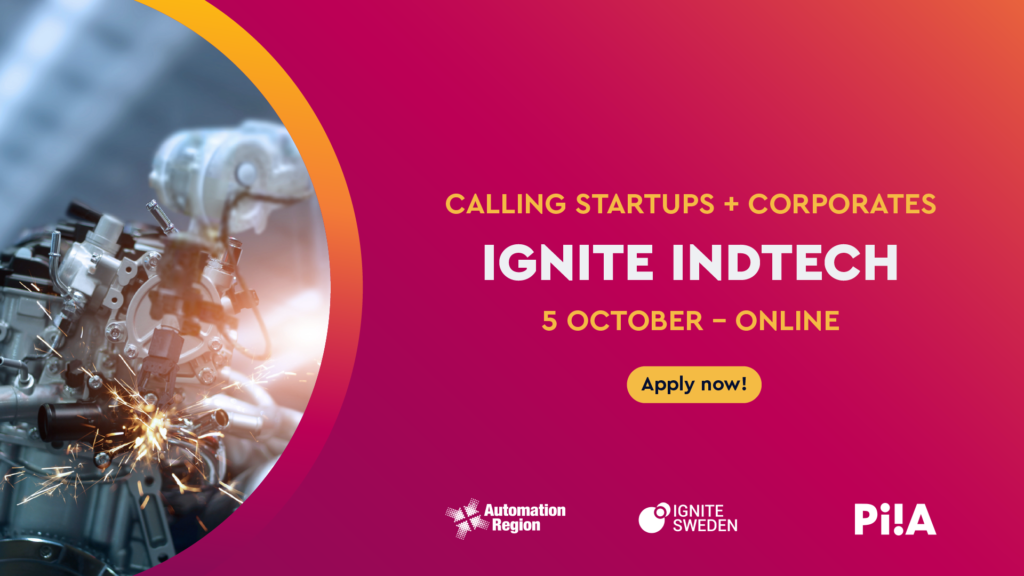 These innovative solutions within IndTech include AI, machine learning, connectivity, new materials, robotics, cloud technology, mobility, social interaction, IoT, big data and more will make the industry smarter, more sustainable, improve agility and increase competitiveness.
ABB, Alfa Laval, Boliden, Gränges, Herenco, IBM, Ingka och Vattenfall have confirmed their participation in the matchmaking, and a few more will join in the upcoming days. Below you will find the list of solutions and technologies they are looking for.
This digital matchmaking event will be held on October 5 and it is co-hosted together with Automation Region and PiiA.
Applications for corporates and public organizations close on 10 September
Applications for startups close on 19 September
Exclusive workshop for corporates
On October 6 from 9:00 to 12:00 we hold a workshop on how to implement a successful pilot with IndTech startups. This activitity is exclusive for matchmaking's participating corporates, Ignite Corporate & Public Members as well as Automation Region and PiiA company members. Please contact us at info@ignitesweden.org for more information.
The participant organizations are looking for innovative solutions within these areas:
Additive manufacturing
B2C products that enable a sustainable life at home
Chemical-resistant materials for the industry
Circular retail products, concepts and services
Connectivity
Data collection
Energy storage and flexibility
Fault detection sensors
Green hydrogen production
Internet of Things
Monitoring
Novel health and wellbeing related retail products
Novel sports/exercise concepts
Pattern recognition
Predictive maintenance
Process optimization
Sensor Data
Smart digital energy solutions
Storage
Sustainable energy solutions for the industry
Turbomachinery
Water treatment